So a bit of a disclaimer: this was my first ever author interview, and I was extremely nervous about it. There's an episode of Friends when Rachel is trying to hire an assistant for the first time and asks the first person she interviews how she did as the interviewer, and uh well, that was me. From reaching out to Sophie, to coming up with questions – I didn't quite know where to start. She was so kind and lovely throughout the entire process, and I truly can't thank her enough for being open to speaking with me. Most of the questions I sent to Sophie were in my "fun" category, but if you're curious about plot and thematic elements in Only Mostly Devastated, you can check out my review here!
Hi Sophie! Thank you so much again for taking the time to do this. To start, what inspired you to write Only Mostly Devastated?
My agent and I were discussing how classic movies and tropes would change if modernised and starring a queer cast, and Grease came up – she loved the idea of what Grease might look like if it were gay. A few months later, after several conversations with her about how "Grease" might be used as a jumping-off point to explore rom-com tropes in the diverse, modern world—especially through a queer lens—I sat down and the plot came to me all in one hit.
With a 288 page count, was there anything you wanted to include that didn't quite make the final cut?
I definitely felt the pressure to keep word count low for this book! We lost a few extra scenes between Will and Ollie that were written (let's just say the rating might have gone up if I'd kept them in). Other than that, there are lots of scenes I would've written, such as banter, or Will and Ollie going on their dates to drive to the woods, if I'd had the space to drag my feet. There were also a few scenes I wanted to include specifically including Niamh and Juliette, to expand their hobbies (clarinet and the gym being huge parts of those girl's lives). But ultimately, if they didn't fit into a pre-existing plot-pivotal scene, they were axed to keep the plot moving! I've definitely spent a lot more time on my current WIP meandering around, indulging in banter and scenes that were purely *fun* (approximately 20k more than Only Mostly Devastated) so we shall see if they stay!
If everyone had to pick their personal anthem from a musical (any musical, on stage, movie, etc.) what would it be? If you had to pick a personal anthem, what would yours be?
Will – Not the Boy Next Door – The Boy From Oz
Comin' home used to feel so good
I'm a stranger now in my neighborhood
I've seen the world at a faster pace
And I'm comin' now from a different place

Though I may look the same way to you
Underneath there is somebody new
Niamh – Don't Rain on my Parade – Funny Girl
Don't bring around a cloud
To rain on my parade
Juliette – A Piece of Sky – Yentl
What's wrong with wanting more?
If you can fly, then soar!
With all there is, why settle for
Just a piece of sky?
Ollie – Summer Nights – Grease (I mean, honestly, what else)
Met a boy cute as can be
Summer days drifting away to oh oh the summer nights
Lara – I'd Rather be Me – Mean Girls
Here's the way that turns out
We always understand
How to slap someone down
With our underhand

So here's my right finger
To how girls should behave
'Cause sometimes what's meant to break you
Makes you brave

So I will not act all innocent
I won't fake apologize
Let's just fight and then make up, not tell these lies
Sophie – You and Me (But Mostly Me) from the Book of Mormon.
You and me, but mostly me
Are gonna change the world forever
'Cause I can do most everything
(And I can stand next to you and watch)
I'M KIDDING I'M KIDDING I CAN'T HELP A SELF-ROAST.
Runner up to "I know it's today" from Shrek: The Musical, to be my author-life anthem, and "You Can't Stop the Beat" from Hairspray to be my life-life one. Phew!
Do you have any moral alignments in mind for your characters? (I, for one, definitely see Lara as chaotic neutral.)
I can totally see Lara as chaotic neutral! I would go:

Lara – Chaotic neutral
Will – Chaotic good
Ollie – Lawful good
Juliette – Lawful good
Niamh – Lawful neutral
Matt – Chaotic good
Darnell – Lawful neutral
The kids – Anywhere from lawful good to chaotic evil, depending on how tired and hungry they are
Favorite musical of all time?
I love so many, but when I was 17 I discovered Wicked (through Glee, no less) and memorized the whole soundtrack. I was going to Sydney for my 18th and my mum said I could pick any show to see while there, but Wicked ended a couple of weeks beforehand. Then I got an email saying they extended the run so the final performance was on my 18th, but by this point mum said it was too late and they'd already planned my day. Then Mum and my sister took me for a walk on my 18th and surprised me—they'd bought tickets! And I sobbed the WHOLE TIME, and it was the most special performance because it was the true finale, so the audience was screaming and singing along.
For this reason, Wicked will always, always be my very favourite.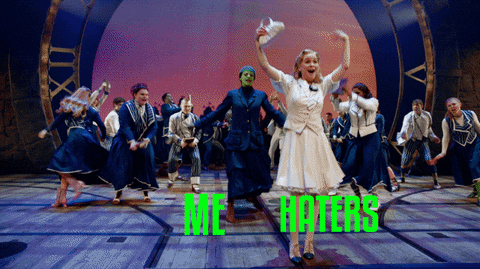 If Only Mostly Devastated got adapted into a movie, do you have a dream cast in mind? Also…would there be any musical numbers?
For Will, I would love to see a Venezuelan actor picked, especially a newcomer or relatively unknown actor! (Is it weird to say a dream cast is someone I've never heard of? Oh well, maybe I'm a little weird). Otherwise, Marcel Ruiz is the actor I used as a reference for my cover artist, and he was *amazing* in One Day at a Time, so!
As for Ollie, I have to be indulgent and say Froy Guiterrez, even though realistically Ollie would probably not be quite so perfect looking—it's a teen movie, we're allowed to have ridiculously beautiful actors, right? Totally.
And I would be personally offended if there weren't any musical numbers.
What are some of the books you've been reading lately/what are some recent books that have inspired you in one way or another?
I've recently read and loved What I Like About You by Marisa Kanter (falling in love over instant messaging while secretly knowing each other in real life), All Your Twisted Secrets by Diana Urban (a group of teenagers are locked in a room with a note: they must choose one of them to die, or the bomb in the room will go off), and I'm doing yet another re-read of Stephen King's The Long Walk (100 teenage boys must walk at 4mph. If they fall below this pace, they get a warning. If they accumulate three warnings, they get shot. Only one may survive). Every time I read a great book it inspires me to do better, to tighten my plot, to strengthen my dialogue, to write more evocative descriptions. Beauty pushes me.
Finally, what's the main thing you hope readers will take away from Only Mostly Devastated?
I hope that readers take away is that boundaries are essential, and you should never feel like your needs are less important than someone else's. Respecting someone else's needs does not have to mean neglecting your own. And if your needs are incompatible with theirs? Then it's okay to compromise, but it's also okay—and sometimes necessary—to walk away. I think this message is especially important for teenagers, who are learning what their own boundaries look like, to hear.
About the Author
Sophie Gonzales writes Young Adult queer rom-coms with memorable characters, biting wit and endless heart. When she isn't writing, Sophie can be found ice skating, performing in musical theatre, and practicing the piano. She currently lives in Melbourne, Australia where she works as a psychologist.
Links for Only Mostly Devastated – OUT NOW!
Barnes and Noble | BooksaMillion | Book Depository | Indie Bound
Add it on Goodreads!